Home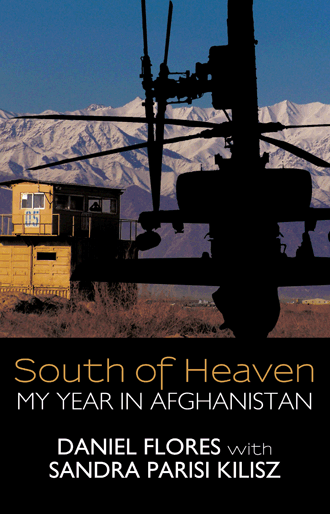 Welcome to my website!
I'm Daniel Flores with Sandra Parisi Kilisz, author of South of Heaven: My Year in Afghanistan.
About the Author
Daniel Flores is a native Houstonian who started his military career as an infantryman with the 4th Infantry Division, based in Colorado Springs, Colorado. In late 2005, he was activated to be deployed to Afghanistan for "Operation Enduring Freedom." Currently he works for the United States Customs and Border Protection as an Air Interdiction Agent. He lives in Texas.
About my latest book, South of Heaven: My Year in Afghanistan

In late 2005, the total casualties in Afghanistan were just barely over one hundred; meanwhile, the news agencies were publicizing, each day, the thousands of American soldiers who were dying in Iraq. There was rarely any mention at all of the conflict going on in Afghanistan. Little did Daniel Flores know that one year later he would be witness to the Taliban resurgence and lose some of his friends in the war. He was locked in a battle for his life against a determined enemy, in one of the most notorious and highly contested valleys in the Hindu Kush, in his Apache gunship—without bullets. South of Heaven is the searing memoir of Flores's year-long tour of duty in Afghanistan. One of his missions was featured in a segment on the Military Channel's My War Diary program. The segment was based on the rescue of an American Convoy in the Tagab Valley in Afghanistan. The video and audio footage of the actual battle that he shot with his own equipment was used in the production. The final week of his rotation in-country was a true test of his faith and his daughter's faith that he would return home unharmed.
---